CA Final exams are considered one of the most challenging exams to crack in India. Many students have to give 5-6 or more attempts to clear this exam. It is a dream of thousands of students to clear it in their first attempt and get a good CA Final result. However, it is possible with the VSI Jaipur. VSI Jaipur is the best CA final coaching institute in India, giving impressive results to hundreds of CA aspirants in their first attempt. VSI has the record of ever-highest marks in the CA Final, IPCC and Intermediate exams. Want to know how it can be made possible? 
And the answer is VSI's VVMP program. VSI prepared this program after years of research plus their experience of teaching so many students. The VVMP process includes SWOT analysis, study plan strategies, target-based study, mock test series, motivational sessions, and personalized guidance. All these processes help in increasing the chances of students getting the desired CA Final result and clearing the exams in just one shot. 
In the CA Final result of Nov 2022, 4 VSI students achieved All India ranks under 50.
Without delay, let's know the process of the VVMP program, its achievements, and the enrolment process with its fee structure. Read the complete process to know how VSI students are getting such amazing CA Final results in 2022. 
VSI VVMP Process
CA Final course is the last ladder of the CA course. However, as it is lengthy, difficult and hard to clear, so VSI has prepared this VVMP program for the students. The entire VVMP process involves a series of stages to help, guide, and motivate students. Here is the process of the VVMP program.
SWOT Analysis
In this process, VSI collects the strength, weaknesses, opportunities and threats of the students. And also helps students to change their shortcomings into opportunities. The faculty finds the things you are good at, identifies solutions to tackle any problem, and goes through the academic results. After that, for pointing out the weakness, they search for the area that can be improved. Additionally, they try to locate opportunities by finding areas for enhancement. It is a crucial step in order to achieve a good CA Final result and VSI puts consistent efforts to help each student. 
Study Plan and Strategy 
After the SWOT analysis, VSI specially prepares customized study plans for the students. In this process, VSI provides a timetable to the CA candidates. According to that timetable, they start learning for their CA exam. Moreover, VSI also makes a perfect learning strategy in which students can find what to learn, how to learn, and when to learn. Primarily the staff focus on the important chapters for each subject and guides the students to devote more time. Students also get proper strategies to utilize their odd times.
Target-based Study 
VSI knows a perfect study plan only is not enough for students to secure a rank in CA Final result. So, VSI makes study goals for the students. By providing a study map to the students, VSI helps them complete the syllabus on time. Including all these, VSI also provides targets for each subject to the students. At the same time, VSI guides students on how to cover the course, so that they have sufficient time for revisions.
VSI Mock Test and Analysis 
In this process, VSI designs mock test papers for the CA students, which help them to achieve success in the CA exams. Among many reasons for such an amazing CA Final pass percentage in 2022, one of them is mock test papers. These CA Final mock test papers are prepared in an unbiased manner, with proper question placement and based on ICAI study material and past year papers. In the CA Final exams of Dec 2021, questions of 62 marks are from the VSI mock test series. So, now you can assume the quality and level of this series.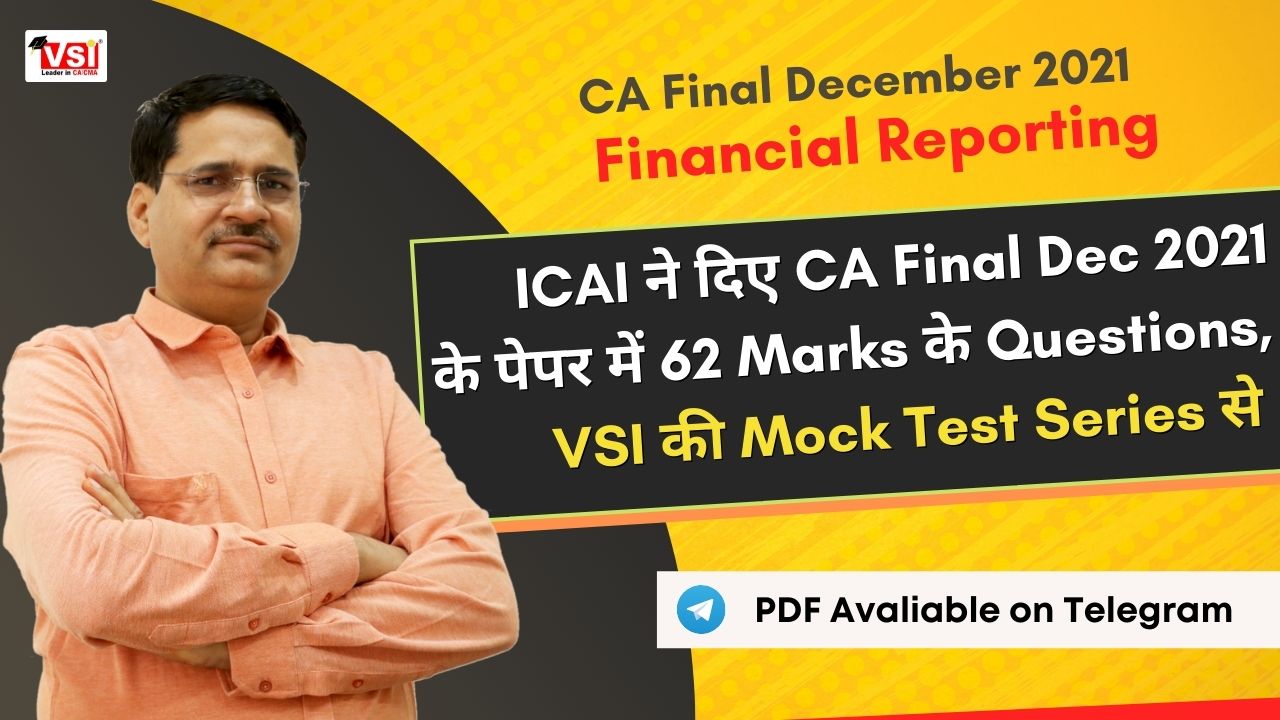 Motivational and Success Sessions
Along with CA Final classes, VSI conducts motivational sessions for the students. In these sessions, VSI shares the success stories of its previous batches and tries to develop a positive attitude toward the students. Besides this, VSI provides motivational tips and pushes students in the right direction to achieve success.
Personal guidance
In this process, CA, R.C Sharma sir provides personal guidance to the students. And also, gives them essential study tips for CA exams. The personalized guidance is given based on students' mock test performance. They also receive the revised study plan to get a good CA Final result. 
VVMP Amazing Achievements
If we talk about the achievements of VSI in a word, it is amazing. VSI never fails to amaze everyone with their incredible results. As per the CA final result, July 2021 VSI secured AIR 8 position. 81 out of 100 students of VSI cleared the CA final exam in July 2021. You can assess the high CA Final pass percentage of VSI. In fact, VSI secures seven times all India one rank in CA exams. 
How to Enroll for the VVMP Program
Now as you know effective this VVMP program is in getting the best CA Final exam result, so you should consider joining it for your preparation.
To be a part of the VVMP program, you must visit the VSI official website. Go to the VVMP page and fill out the admission inquiry form. After that, you click on "kindly call me back," and then you get a call from VSI to join the program. To start the VVMP program, you have to follow the above details.
If you're residing outside Jaipur, then you can join the VSI's CA Final online classes. Check details of the CA online classes on the VSI home page.
CA Final Fees Structure of VSI's VVMP
To join this program, you have to pay the fees below.
| | | | |
| --- | --- | --- | --- |
| CA final exam groups | Series 1 | Series 2 | Series 3 |
| Group 1 | Rs.2500 | Rs.5000 | Rs.7500 |
| Group 2 | Rs.2500 | Rs.5000 | Rs.7500 |
| Both groups | Rs.5000 | Rs.10000 | Rs.15000 |
Conclusion
Finally, if you want to become a CA in just one attempt, you should immediately join the VVMP program of VSI. After entering the program, you get terrific study tips, guidance, motivation, and strategy to crack the CA final result.