In Magic: The Gathering, there are a lot of Creature Cards, so we look at the best Frog Cards and what they do.
In Magic: The Gathering, creature cards come in many different shapes and sizes. There are over 12,000 creature cards in the game right now. Throughout the game's history, there has been a lot of support for some types, like Elves, Goblins, and Zombies. However, some types have only been seen rarely, which has upset their fans.
Frogs are one of these kinds of animals. Even though Frogs are liked by almost everyone because of their strange mix of cute and scary, they haven't gotten much support over the years. Still, there are some great Frog cards out there, and we want to highlight them here. So jump in and come with us on a tour of some of Magic's best allies that can swim and fly.
The Gitrog Monster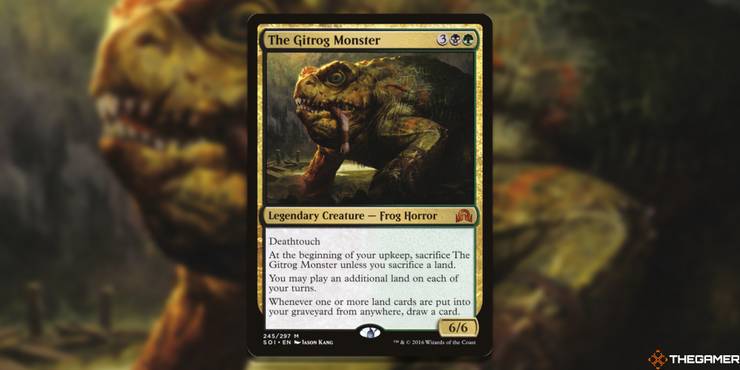 The Gitrog Monster is a 6/6 Frog Horror with deathtouch that costs five mana and is a very popular choice for a black/green Golgari commander. Even though the Gitrog Monster has to be sacrificed at the start of its owner's upkeep if they don't sacrifice a land first, the card has many powerful benefits that make up for this drawback.
First, as long as the Gitrog Monster is in play, its owner can play an extra land on each of their turns. This makes it more important to give up lands. The Gitrog Monster lets you draw a card whenever one or more of your lands are put into your graveyard. This gives you a chance to get more cards.
Hezrou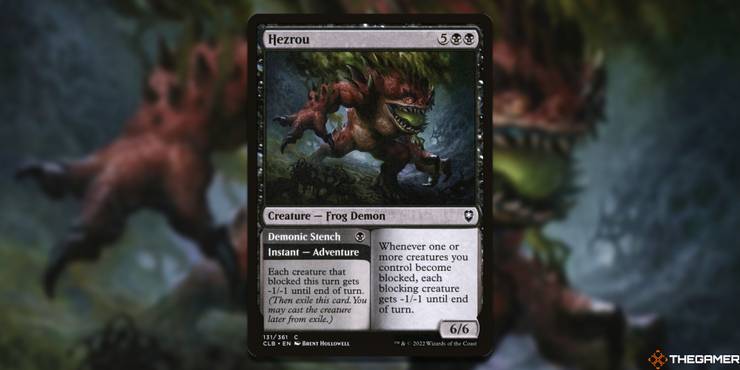 Hezrou is a legendary creature in every way except for being a supertype. Everything about him feels special, from his one-word name to his powerful artwork. He's also very strong in terms of how the game works. For example, he makes great use of the adventure mechanic to present a card that will mess up your opponent's math for the whole game.
Demonic Stench, an instant you can play instead of Hezrou, is a great way to catch opponents off guard who think they have good ways to block your Frog creatures. Its effect is applied to all of your creatures as soon as Hezrou enters the battlefield. This is a scary Frog that works just as well early as it does late.
Papercraft Decoy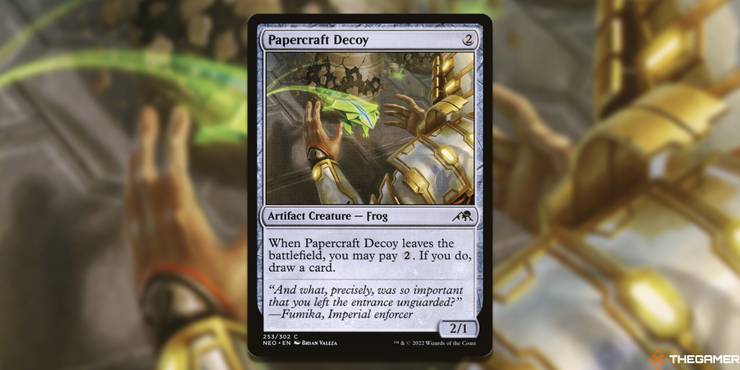 Papercraft Decoy's cute, sentient origami Frog got a lot of style points when we were making our list. It was just too good to pass up, as the guard being yelled at in the flavor text can attest. Still, it's an interesting card to play with because it gives some decks a unique way to draw cards.
You can pay two mana to draw a card when the Decoy leaves the game. This doesn't seem like a great rate, but when you take into account the rare "leaves play" wording, it opens the door to all sorts of tricks, like blinking the Decoy more than once, as well as the classic "graveyard looping" method. This fetching Frog can be a good way to draw cards in decks that can make a lot of mana.
Unwilling Ingredient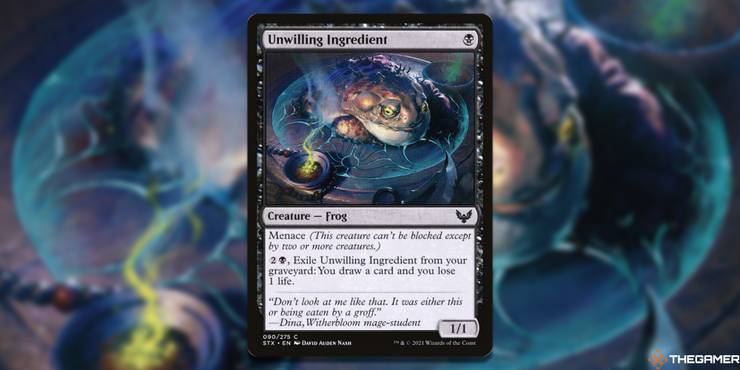 Unwilling Ingredient starts off strong with a name that is both dark and funny. And it keeps going by being a great card as well. As a 1/1 with menace that costs one mana, it can come down early and start chipping away at your opponent's life until they have two or more creatures in play to block it.
Once they do, and your poor Ingredient has died, it will continue to help you even after it's gone. While it's in your graveyard, you can pay three mana and one life to get rid of the Ingredient and draw a card. This could be just what you need to get ahead in a slow game, making this Frog a secret sideboard ingredient in Midrange mirror matches.
Uurg, Spawn Of Turg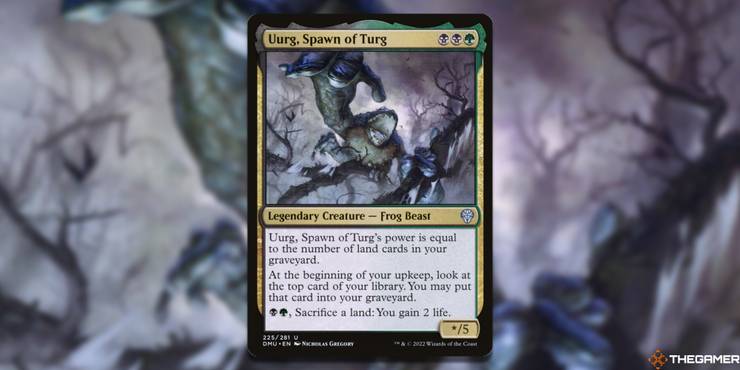 In the same way that legendary Frogs care about the lands you have in your graveyard, Uurg's power depends on how many you have there. It also lets you sacrifice lands you have in play. At first glance, this doesn't seem like a very good way to use your land cards. However, when you think about lands with effects that happen when they enter the battlefield and the many ways you can bring a land back into play, things get a lot more interesting.
A great way to use Uurg is to sacrifice a Bojuka Bog. Then bring it back the next turn to exile a player's graveyard while gaining two life. This is just the tip of the Froggy iceberg. This Frog is an important part of a deck that is all about lands.
Plaxcaster Frogling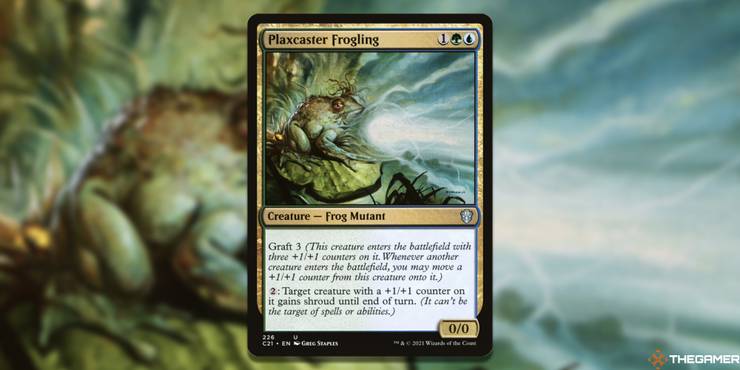 Even though this Simic Frog looks pretty bored in its artwork. It can actually be a fun part of a +1/+1 counter-based deck. Not only can it move its own starting counters to some of your bigger threats, but when it is activated. It can also protect those bigger threats by giving them shroud for a turn.
This ability is more useful in Commander, where it can basically stop your opponents from casting aura spells on their creatures, as long as those creatures have counters on them. It's a strong, versatile card that can be played both ahead of time and after the fact.
Spore Frog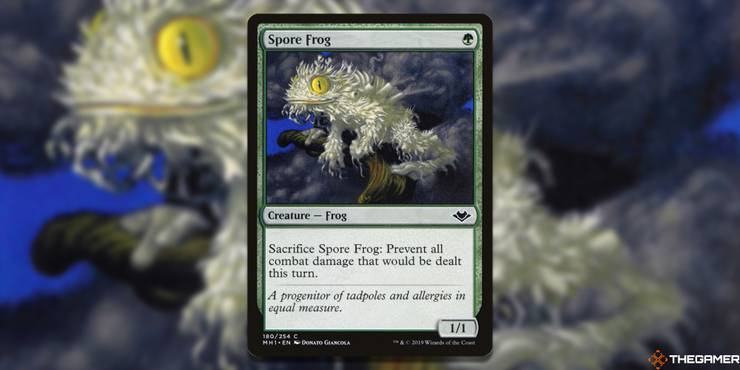 Spore Frog is a 1/1 green Frog that costs one green mana. It is a very underrated card that is played in Pauper and Commander. Spore Frog's appeal comes from its activated ability, which lets it be sacrificed right away to create a fog that stops all combat damage that would be dealt in a turn.
When paired with consistent graveyard recursion cards like those found in Commander decks with creatures like Meren of Clan Nel Toth, Spore Frog can let its controller stop damage that would be dealt to them every turn, keeping them alive long enough to do whatever tricks they want.
Frogmite
At first glance, Frogmite doesn't seem like much since it's just a colorless 2/2 artifact creature that costs four mana. However, this common Frog is actually very powerful. This is because of Frogmite's one ability, which is an affinity for artifacts. This means that for each artifact you control, Frogmite's mana cost goes down by one.
When paired with low-mana-cost artifacts and artifact lands, Frogmite's mana cost can be easily reduced to zero, making this Frog a free-to-play 2/2 in formats like Pauper that last forever.
Grolnok, The Omnivore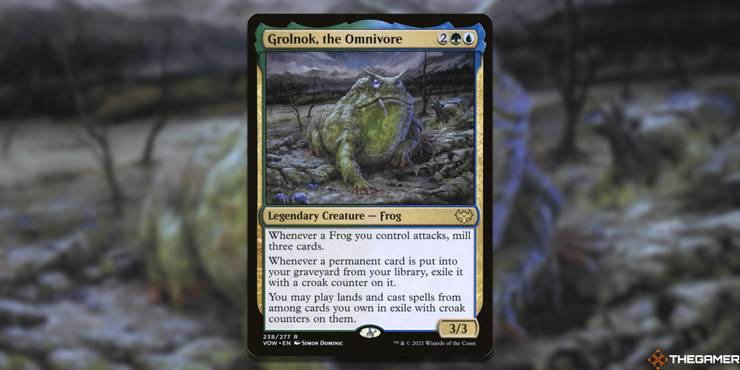 Grolnok, the Omnivore is a powerful Frog commander who is aligned with the Simic (blue/green). This is a 3/3 creature that costs four mana. Whenever Grolnok or another Frog that its owner controls attacks, that Frog's owner draws three cards. Also, whenever a permanent card from Grolnok's owner's library is put into their graveyard. That card is sent to the graveyard and given a croak counter.
Grolnok lets you play exiled spells and lands with croak counters on them. If you have a fighting force of Frogs ready to attack each turn. This can give you a huge card advantage. As a nice finishing touch, these croak counters stay on exiled cards even if an opponent removes Grolnok. So they can still be cast when Grolnok comes back from the command zone.
Froghemoth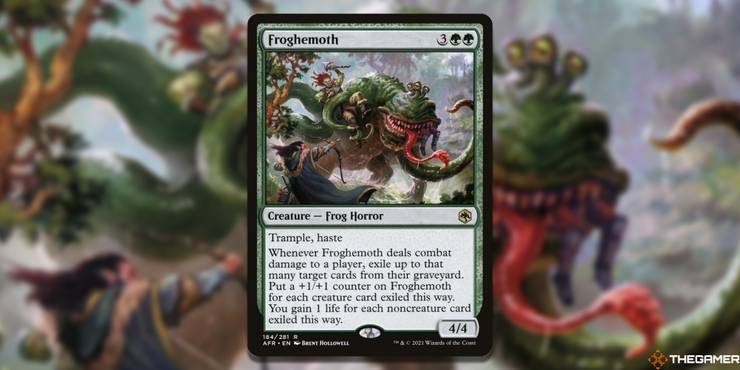 Froghemoth is a green 4/4 creature that costs five mana and comes from the Dungeons & Dragons: Adventures in the Happy Wheels set. It has trample and haste. When it does combat damage to an opponent. You can put as many cards from that opponent's graveyard into the graveyard as the damage it did.
This is a great way to remove cards from an opponent's graveyard over and over again, especially since you get some nice bonuses at the same time. Whenever a creature card is exiled this way, the Froghemoth gets a +1/+1 counter. And whenever a noncreature card is exiled this way, you gain one life.